Empowering People Through Information That Will Help Them Succeed In Business, Life, And Career.
In this new era, Internet and social media have become invaluable sources of information. They have become an avenue that is critical to help us get things done right and fast. Heck, for most of us, the Internet has become part of our lifestyle!
With more than 1.59 million daily blog posts that are published every day, too many startup media companies focus on publishing trivial stuff, celebrity news, and gossip. These kinds of stuff don't make people's lives better or don't inspire readers to make a positive influence on others.
People should read contents that can make them better not bitter! After all, why tear down when you can build up?
That's where the Tycoon.ph team dares to be different…
We don't provide news; instead, we share actionable tips, strategies, tips, and insights. We create contents and stories to inspire and motivate our readers to become a positive force in a world that has been made ugly by irresponsible news reporting and tabloid journalism.
We believe in the power of evergreen and high-quality contents. These contents can move human spirit and initiate transformative actions. We believe that our community, including our content, contributors, members, and readers, have the capability to transform the world, one productive information at a time!
Tycoon.ph aims to deliver informative, relevant, engaging, and educational contents that can stand the test of time and inspire generations of Filipinos.
There is beauty in this world. You just have to know where to find it. And it starts with us.

What we offer
Sponsored Content Advertising
Develop an insight-driven marketing program for your brand. Sponsored content by our award-winning blog Tycoon.ph will help you reach businesspeople, marketers, professionals, and people who are interested in entrepreneurship.
Our sponsored content advertising includes:
Publishing a 500-word post (provided by you)
A custom featured image (provided by you)
Up to 3 links
Paid Post Boost on Facebook
Featured placement on our newsletter
You can find previous sponsored posts here. Price is US$250 only (we also accept cross-deals).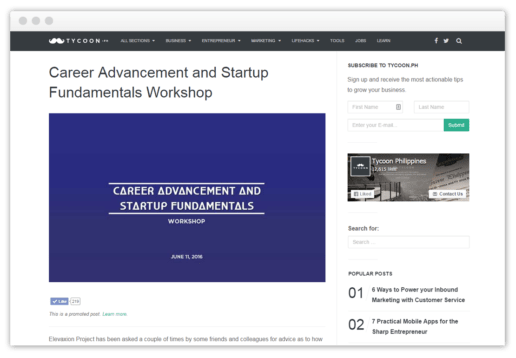 "62% of my Workshop Participants came from Tycoon.ph Sponsored Content."
– Venchito Tampon, Founder of SharpRocket
Note: We only accept up to 4 sponsored content advertisers per month. The revenue is used to maintain our website, and we are in no way gets to profit from it. Content that we advertise must be valuable to our audience and expect that we'll decline contents that are not suited to our audience. You can submit a 500-word article that you wish to advertise with us on our contact form before moving forward.