Thanks for your interest in contributing for Tycoon Philippines.
We love helping entrepreneurs grow their business and take actions. We feature information that can help them achieve this mission. We look for authors with a unique perspective and a point of view that our readers can identify with. If you want to share strategies, tips and ideas to our growing community of readers, here's what you need to know.
1. We Publish Topics We Like to Read
You can share tips and strategies about the topics we cover. Here are they:
Business – Business Ideas, Small Business, Startup, Home Based, and Franchising
Marketing- Branding, Blogging/Content, Link Building, Search, and Social Media
Entrepreneur – Management, Employment, Human Resource, Productivity, and Finance
Freelancing and Freelance-Work Related Topics
Earning, Saving, and Making Money
2. We Post Valuable and Actionable Content
3. We Care about Quality and Style
The Rules:
Your post must be original content that's never been published elsewhere.
Minimum word count is 1,200 words. Yup, we love long-form and evergreen contents.
Refrain from self-promotion in your post. If published, you'll get an about the author blurb at the end of the piece where you're free to link back to your website, social media profiles or your products.
We appreciate if you can include more than 1 title option, 3 titles would be ideal. Spend time with this. Your title can trigger or have the following: Surprise, Questions, Curiosity Gap, Negatives, How to, what or Why, Numbers, Audience referencing or Specificity.
If you include photos in your document, they must be your own. You may also source photos from Creative Commons Licensed content as long as it's listed for commercial use and you include a link to the image in your document.
Please note that our editorial team may edit your piece for length or to match the style and tone of our website.
Submitting posts below do not guarantee your post will be published on Tycoon Philippines.
Submissions Guidelines:
Please send the following information at roel (at) tycoon (dot) ph
Full Name
Website
Social Media Accounts
Title Options
Your submission on an MS Word Document
Author Bio
Gravatar account email
Have questions? Contact us here.
---
Already an author? Get the badge!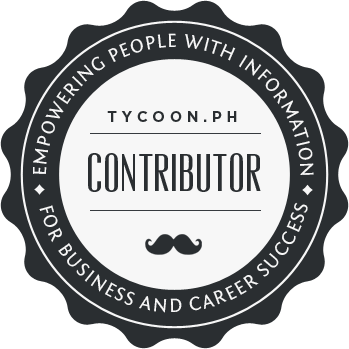 *Change 'AUTHOR LINK' with your author profile page on Tycoon Philippines. e.g. https://tycoon.ph/author/roel/