At this point, the majority of Filipino business people who operate websites are now aware of the importance of search engine optimization (SEO). Google and other search engines drive targeted and highly motivated traffic, making them prime sources of visitors who are easier to convert into paying customers. The beauty of SEO is that it doesn't charge you advertising fees on a per click, per lead or thousand impression basis. Once you hit the sweet spot, your business can benefit immensely for years.
Of course, talking about the benefits of ranking well on Google is a lot easier than actually making it happen for your website. Even in an emerging market like the Philippines, competition can be stiff especially in industries such as real estate, gadgets, tourism, and pharmaceuticals. It's not uncommon for businesses to run SEO campaigns for months or years and not break even with the ROI they get.
I've been doing SEO for nine years now, and a lot has changed during that period. Until recently, there were hardly any distinctions between regular SEO campaigns and localized ones. The drill has always been:
Apply on-page SEO
Create content
Build links
Repeat
In recent years, however, Google has gotten much smarter about determining which sites represent legitimate local businesses.While it's true that traditional ranking factors still matter a lot, local SEO is now much more nuanced thanks to the rise of new ranking signals.These days, webmasters will have to reckon with elements such as Google My Business, Schema markups, local citations, link localization and more.
Dominating Local SEO in the Philippines and Beyond
Recently, our Philippine SEO company has started taking in more clients who are targeting localized markets. Without tooting our own horn, it's probably safe to say that we've been on quite a roll. Here are a couple of case studies where we were able to dominate local markets by applying comprehensive local SEO campaigns:
Case Study 1: A Philippine Cosmetics Vendor
In one account, we were approached by a BGC-based company to do SEO for their new e-commerce property which was targeting the Philippine market. I must admit that initially, I had serious doubts as to how much success we can generate for this client. After all, the local e-commerce scene seemed sparse at the time we started this project, and I wasn't sure if Filipinos were ready to buy from very niche online vendors.
Nonetheless, we thought the project was interesting, and if nothing else, we would at least get some good insights on the state of e-commerce in the country. As it turns out, we were all pleasantly shocked with how well things went for this campaign: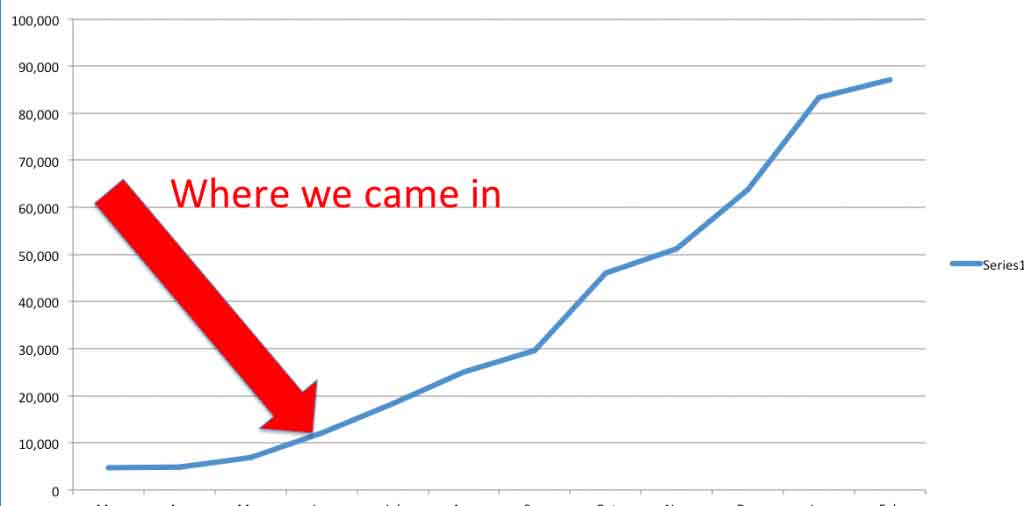 These numbers were gathered after the first six months of the campaign. As you can see, organic search traffic increased steadily month after month. We started with the website attracting 4,500 visits every 30 days and eventually went up to a little less than 90,000 by the end of the campaign. This growth was fueled by the prominence of the website's search results for pretty much every cosmetics-related search term you can think of. Here's the kind of placements the site enjoys for general, high-traffic keywords: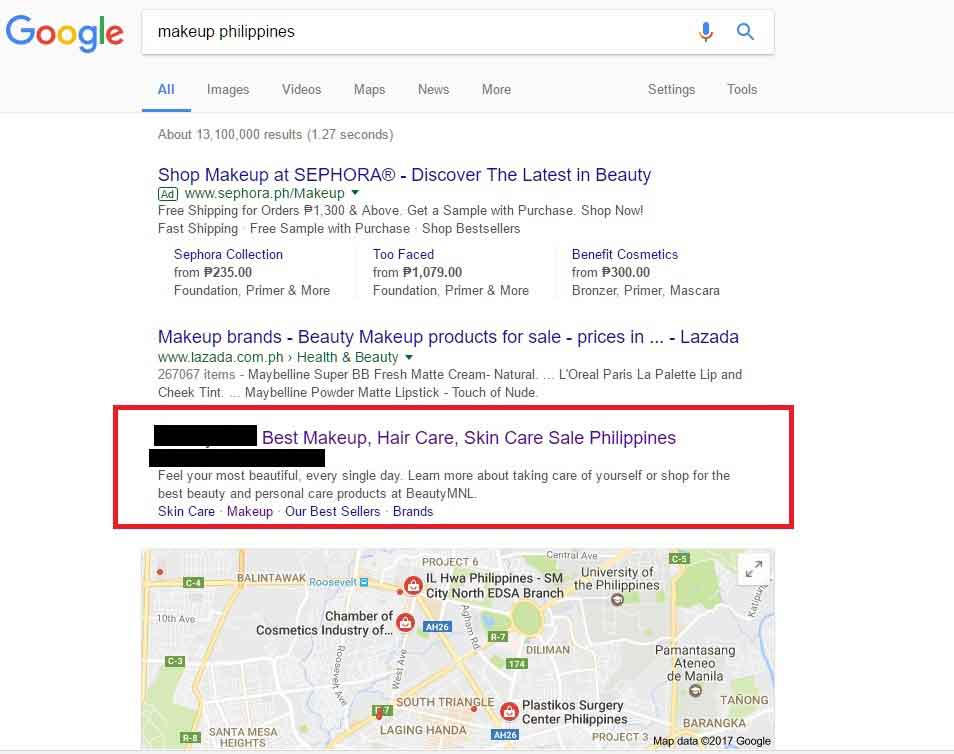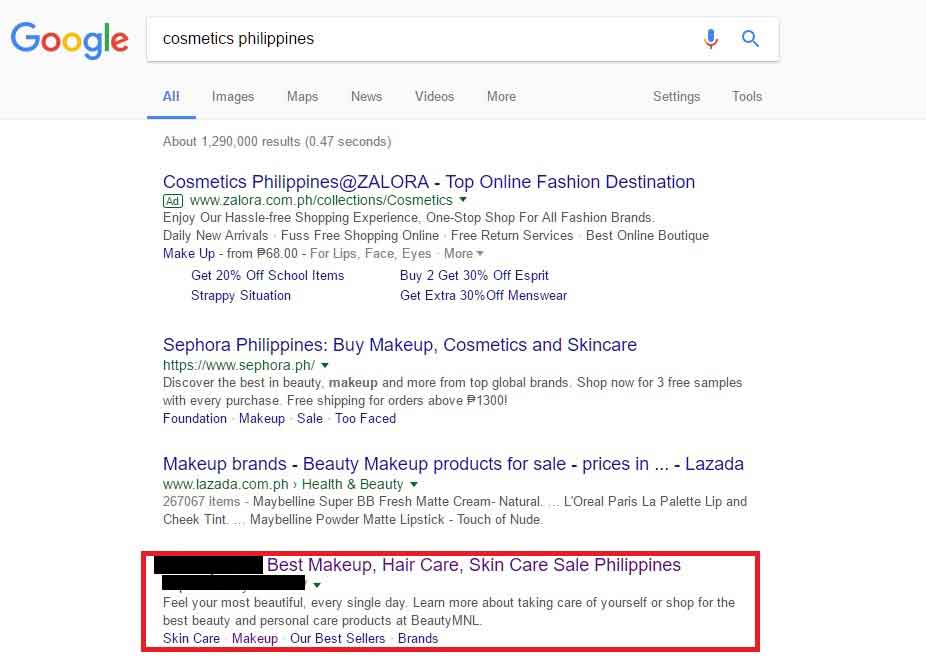 The site does even better for longer, more product-specific terms: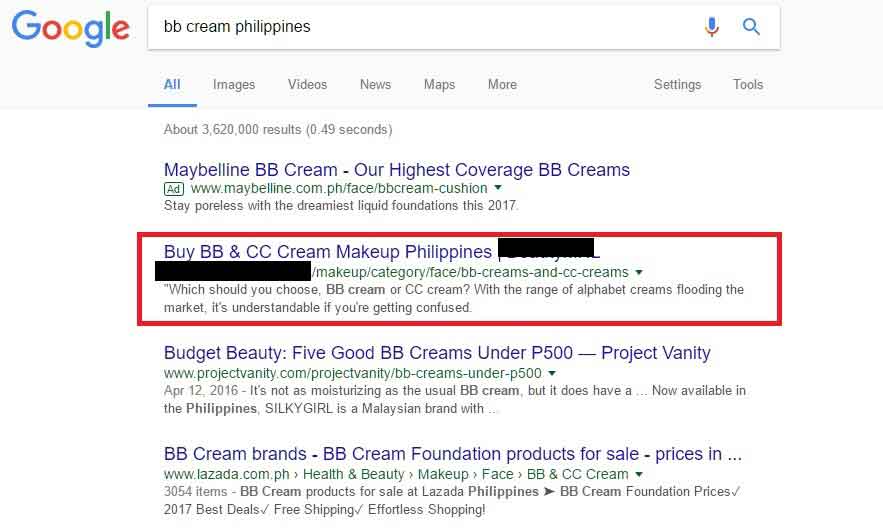 Case Study 2: Sewing machine supplier in Los Angeles, CA
Good local SEO can produce stellar results not just in emerging markets like the Philippines. In a highly developed and insanely competitive market like Los Angeles, we were able to help a small family business grow into the company to beat in that locale.
The company sells sewing machines imported from China, Japan and Korea. We were approached with modest expectations, but even we were surprised to give the client this kind of exposure in his target market:
Keyword: Sewing machines Los Angeles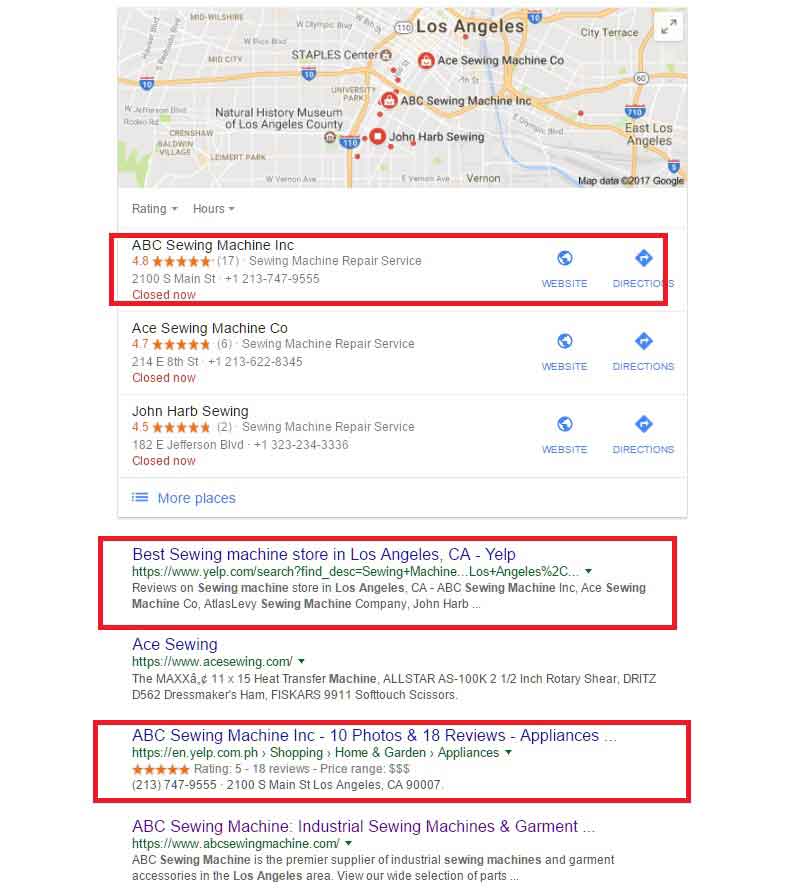 Keyword: Industrial sewing machines Los Angeles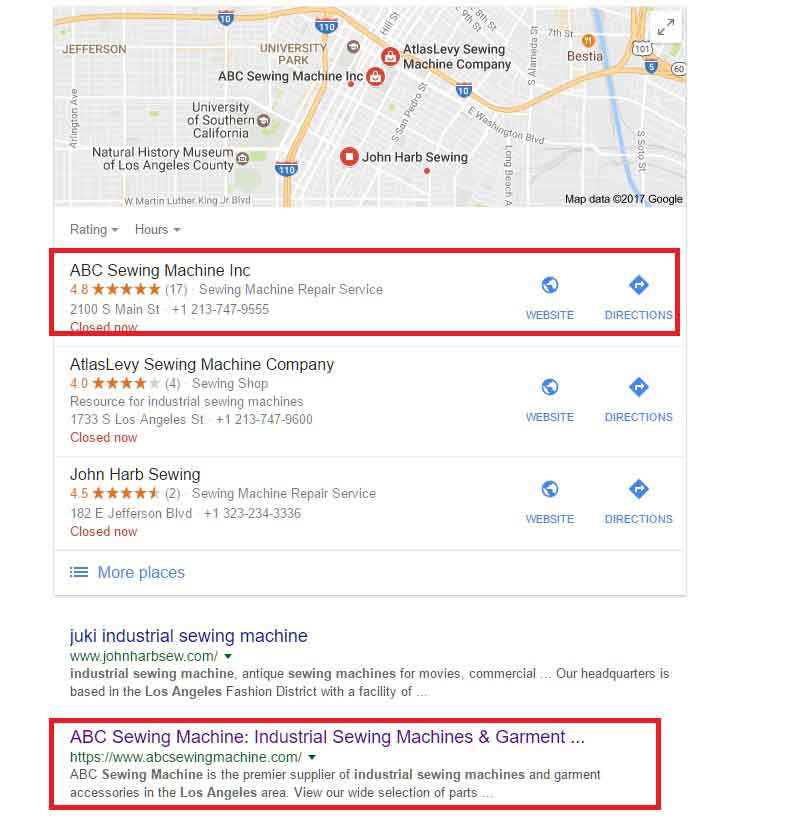 Based on these examples, you can see that you don't have to be a company with millions in marketing budget to prosper in local search. All you need to have is a solid grasp of what factors to optimize for on top of the traditional SEO ranking elements. From there, it's all about making sure you execute correctly and consistently.
Local Ranking Signals
Now that we know the value of local SEO and the kind of power it wields over the SERPs, let's discuss the areas outside traditional SEO that you need to optimize so you can maximize your rankings:
Name, Address, Phone (NAP)
Your business name, address, and phone are the three most basic elements of local SEO. Thanks in large part to Google algorithm updates like Hummingbird and RankBrain, the search engine is now much better at understanding that business names, addresses, and phone numbers are more than just strings of letters and numbers. Google now recognizes each one as "entities" that it associates meanings and other terms. The more prominent you display your NAP and the more consistent it appears on the web, the more the search giant associates your website with its target location.
To help Google associate your NAP with your webpages, display it on every page of your website. Some sites display it discreetly on their footers while others use sidebars or headers for better visibility. You can choose to display your NAP on either of the three – there's no advantage or drawback whichever one you choose.
When you encode your NAP, make sure that the phone number you use is a local one. 1-800 numbers are fine if that's your official business number, but it's best to have something that has the local area code in it.
Lastly, you'll want to add Schema markups to your NAP so search engines can instantly recognize the information as a business name, address, and a phone number. If you're not familiar with Schema, this is a unified HTML markup convention that all the major search engines agreed on. With Schema, webmasters can tag particular words and objects in the code for quick identification. Kissmetrics wrote an awesome post about it here, and I strongly suggest you go over it if the subject is new to you.
Marking up your NAP with Schema doesn't change its appearance in a browser. The markups are only visible from a code level, and you shouldn't experience any formatting or design mishaps from adding them. When you add your NAP, you can simply use this template and replace the text in bold with your info:
<div itemscope itemtype="http://schema.org/LocalBusiness">
<span itemprop="name">BUSINESS NAME</span><br/>
<span itemprop="address" itemscope itemtype="http://schema.org/PostalAddress"><span itemprop="streetAddress">STREET ADDRESS</span><br/>
<span itemprop="addressLocality">CITY</span>, <span itemprop="addressRegion">PROVINCE/STATE</span><br/>
<span itemprop="postalCode">POSTAL CODE</span><br/>
<span itemprop="telephone">(045) 402 3997</span><br/>
<meta itemprop="latitude" content="LATITUDE"/><br/>
<meta itemprop="longitude" content="LONGITUDE"/><br/>
You can get the latitude and longitude by searching your address on Google maps. Once you're done, just copy and paste the code into the field where you want the NAP to be and save the page. Not too hard, if I may say so.
On-Page SEO Tweaks
In local SEO, you'll follow most of the best practices that you would in regular SEO. The only difference is the addition of your target location to the keywords that you're optimizing for. In short, be sure to mention the target area in the following fields on your SEO landing pages:
URL slugs
Title tags
H1 text
Content body
Meta description
Image alt text (when appropriate)
Embed your Google Map with your business marker (when appropriate)
By no means am I encouraging you to mention your target location aggressively in all these fields; as stated in some of the bullets, only do so when it's appropriate and natural-looking. When in doubt, don't force the issue.
Google My Business (GMB) Optimization
Your Google My Business listing is an integral part of your Local SEO presence. It's one of the main methods that Google uses to verify the existence of your business in its location. It's also what Google ranks in its Places three-pack which appears for some commercial search terms above regular, organic results.
If you haven't claimed the GMB listing for your local business, follow the simple instructions here. You'll be asked to verify the listing via snail mail or another method. Choose the one that applies to your area.
Once that's done, you'll want to optimize the listing. Make sure you give each of these items attention:
Business name – Make it the same as the one in your Schema-infused NAP.
Address – Make it the same as the one in your Schema-infused NAP.
Phone number – Best to use your local number.Make it the same as the one in your Schema-infused NAP.
Category– Choose the most appropriate business category in GMB's selection.
Photos – In addition to the Street View image that GMB assigns to your listing based on the address, you will also be asked to upload your images. Photos of your facility's interior, exterior, your team, and others should be added.
Business hours – Set the days and times that your facility operates in.
Website URL – Never forget the URL of your website.
Reviews– Solicit honest reviews from legitimate customers. They don't have to be long – they just have to be genuine.
There's an on-going debate among SEOs on whether or not you should add keywords to the business name. It's been observed time and again that adding keywords do improve your GMB listing's Google Places positioning. While I agree that this does work, I can't tell you how long that will be the case. Google discourages the insertion of keywords to brand names, and there might come a time when people who try to push their luck can get hit with a penalty. Do it at your own risk.
Local Citation Seeding
Local citations are mentions of your business in other websites accompanied by its address and phone number. Google uses citations of your NAP on other websites as a signal of relevance to a specific locale. Having more of these in authoritative and geographically relevant webpages is widely believed to boost your performance both in the regular SERPs as well as in the Google Places 3-packs.
There are several ways to build up a critical mass of local citations pointing to your business, but the fastest and easiest method is through the submission of your business info to business directories.  This would include Philippine directories such as:
Yellow-Pages.ph
Businesslist.ph
PhilippineDirectory.ph
BusinessDirectory.ph
We put together a comprehensive list of local citation sources in the Philippines. I suggest submitting your information to each one. Just be prepared to verify your submissions as some will either call your office or ask for business documents that prove your registration with the government.
In addition to local directories, you should also submit your information in international directories such as:
Bing
Yelp
Facebook
Better Business Bureau
Angie's List
Merchant Circle
LinkedIn
com
Whitepages
HubSpot has a nice list of 50 here that I like. There are other bigger lists out there, though I feel that only 30 or so are worth submitting to. Still, it doesn't hurt to have as many local citations as you possibly can. If you have the manpower for it, by all means, go for as many listings as you can generate.
Business directories aren't the only source of legitimate local citations. You should also strive to get NAP mentions from the following website types:
Local blogs
Data aggregators
Industry-specific directories
Local events directories
I'll probably do a walkthrough of citation seeding using these sites in a future blog post, but that's another story for another day. For now, all the business directories I listed and linked to will suffice.
Localized Link Building
In regular SEO campaigns, content theme relevance and domain authority are the main considerations for choosing qualified link sources. While this holds true for local SEO, you'll also want to get links from local websites as much as you possibly can. While local sites tend to carry less authority than national and international ones, their relevance to your target location can prove to be more impactful for your performance in the local SERPs.
As far as I'm concerned, link building is an art form and there's a variety of ways to go about it. There's no single, best way to do it because each location and each industry tend to have its set of nuances. However, I've learned from experience that the following tactics work best in the Philippine setting:
Join Local Industry Communities
Filipinos in a lot of industries love to congregate online to meet like-minded people.Unlike their US counterparts, however, Pinoys don't flock to Reddit or forums. The local preference seems to be Facebook Groups, and you might be surprised to see how many members groups in your local industry have.
Spend some time in these online hubs and be a good community member by answering questions, asking your questions, offering advice and pointing people to useful resources. It won't happen overnight, but this activity is the starting point for becoming a local influencer.
In a lot of cases, people in your industry might organize meetups, seminars, and conferences. Make it a point to participate and meet people in the flesh. If you've become a steady presence in your Facebook group, you might be invited to become an event speaker. Having that distinction allows your site to earn natural backlinks from bloggers within your niche.
Make it a point to be sociable to people in your industry especially those who have websites. When it's time for you to build links by guest posting or asking to be listed in their Resources sections, you'll have a much easier time approaching them since you've established rapport. In some cases, you don't even have to try. Personally, I've built so many connections in my niche that I could randomly post on Facebook and local website owners in the digital marketing scene would volunteer to host my content and link back to my webpages: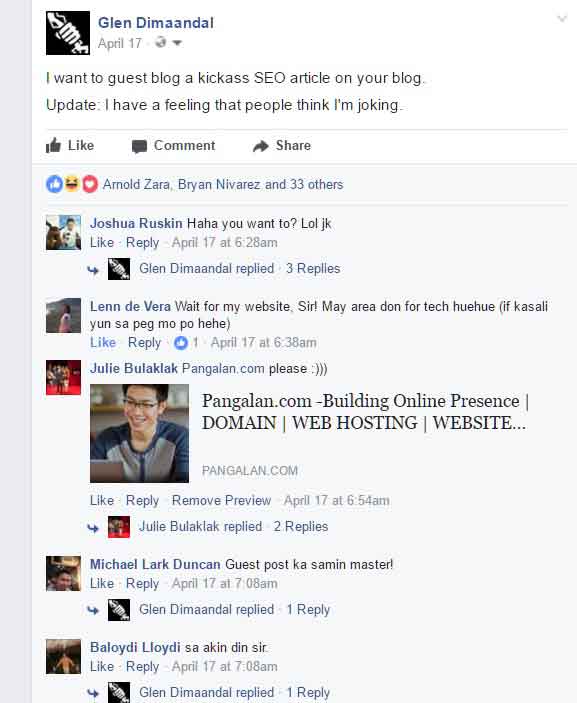 If I remember correctly, I got 15+ guest authoring opportunities from that post alone. That's because I've been an active member of SEO Organization Philippines for almost four years now and I've spoken to the same number of events sponsored by the group. A lot of the people in there are practically drinking buddies of mine at this point.
Lending a helping hand can be very good for link acquisition. In a developing economy like the Philippines, there are always causes, civic groups, government agencies and educational institutions who have websites that can use your help. In a lot of cases, these organizations would be perfectly willing to link back to you as a show of gratitude.
One of our go-to tactics for securing powerful local .edu links is by talking to school heads and inquiring about how we can sponsor some scholarships. Most of them will likely ask what we would like in return, and that's the time to ask for a link from their websites. Some of them will be happy to link to a company in their Resources and External Links pages. Others will even publish a news story on your site to announce your scholarship program. Of course, the first mention of your company should come with a link.
While this might sound like a costly proposition, it's not. We've learned from experience that it takes an average of Php 18,000 to send a child to elementary school for a year. For children in high school, it's a little more than that. However, the value of a local .edu link can never be understated. A local .edu link with a domain authority of 20 is much more attractive to me for a local campaign than five links from .com sites with slightly higher authority.
Some industries in the Philippines have robust blogger communities. Travel, beauty, lifestyle, food, gadgets and more are just some examples. Do your best to get on their good sites by commenting on their posts, sharing their articles on social media or even mentioning them in your blog. Most of them will be happy to reciprocate the gesture and could become your online buddies.
 When you have enough of these relationships going, find a good time to propose a blogger meetup where people who write about similar things can get together, socialize and exchange views on the industry. Make the meetup worthwhile by sponsoring a dinner or even a small event where bloggers can speak about hot industry topics. Make it open to the followers of the bloggers' sites to get more people in the mix.
Most bloggers will be more than happy to participate and write about their experience in the meetup. If you choose to go this route, you can ask bloggers to mention your company as the organizer in their articles – a perfect opportunity to request a link.
Aside from events, you can also get links from bloggers by asking them to review your site, products or services. Oftentimes, Filipino bloggers would be more than willing to do so if you give them a good reason to.
Of course, I'm not suggesting that you pay bloggers to post reviews. That would be unethical on several different levels. There are ways to do this without influencing the blogger's editorial judgment and making it look like you're paying for links.
A good example would be what we did with the aforementioned cosmetics site. To build local links from bloggers, we contacted qualified ones and offered an in-store voucher worth a small amount. In return, we only asked that they write a review about their shopping experience and link to our home page using our brand name.
The vouchers themselves were nothing exorbitant. They were worth small amounts that were just enough to pay for a small item and its shipping. All things considered, this is no different from giving someone a sample product and asking them for feedback about it.
The results were pretty good as we got placements like this and local links to boot:
You can use the same principle if you sell services. If you own a spa, ask a blogger to experience one of your premium services. If you own a salon, treat a blogger to a service of his or her choice. As you gain more experience in link building, you'll be able to come up with much more creative tactics to get links within your niche.
Have a big edge over the rest
If there was ever a time to invest in a Philippine-targeted website, that would be right now. We're still in the Wild West stages of our online business development as a country, and that means there's still not much competition in most verticals. Those who can establish themselves first will have a big edge over the rest of the competition in the years to come.