How do you look for a job? Do you have apps installed on your mobile phone? Is it through a friend? Did you attend a job fair? Or, are you a walk-in applicant?
If you have a LinkedIn account, then it may have been the other way around for you. You may have experienced a job offer, sometimes they come all together, and the final call whether to accept or not is yours to take.
For the sake of those who are not quite familiar with LinkedIn, here are some facts and figures about this business-oriented social network:
98% of recruiters use it to find candidates
85% of hiring managers use LinkedIn to background check applicants
Data mining and statistical analysis are the top skills that got people hired as of 2014
41% of millionaires have their own accounts
80% of its users connect with companies for job opportunities
You are 14 times more likely to be found on LinkedIn if you have a professional profile photo
These facts may not be enough for some to appreciate the real value of having a LinkedIn account. While it is not a requirement for you to be hired, it matters because of these reasons cited by professionals and proven by studies. Not to mention that we are now in digital era because that is obvious to everyone.
1. It is a great way to market yourself
Hiring managers would have lesser time to scan through a pile of papers only to find the perfect candidate for the position. In this faster paced world, we all want to have everything in just a few clicks. We easily jump from one page to another. That is why it is crucial to make a lasting impression – at least virtually.
Setting up an account does not end there. What these hiring managers look for is your credibility to fill in the vacant position in their company. You may have a long list of job experiences, but the question is, are you able to get their interest to have you?
It's true that most people would simply scroll down when viewing a profile, but when you catch their attention, they will spend more time to know you.
So, when you setup or already have an account, make sure that you have an updated profile. And remember that recommendations and endorsements are also beautiful in the eyes of hiring managers. It may take a while having these that's why it's important to do the next reason.
2. Build a network
If you're unfamiliar, the concept is almost like with other social media sites – only this is on a more professional level.
We have mentioned earlier that 41% of the millionaires have their LindkedIn accounts. Meanwhile, 45% are in upper management positions.One of them might even be your boss! Pretty sure that if this is any other social media site, you'd get awkward adding them to your network. But, given that this is a professional, business-related social network, it is understandable why you'd connect with them.
To add, this is a great place to meet new people with the same and related interests. When you meet these people, you're not only having a chance for better job opportunities, but it could also be a start-up business.
Here's a very simple tip: connect with people who shares the same interests and follow companies that can give you a job opportunity aligned with your skills. Also, you might want to include talent acquisition and HR specialists in your network.
3. Ideal for B2B and start-up businesses
In an analysis released by Oktopost during the first quarter of 2015 through an infographic, LinkedIn emerges as the top site for B2B marketing. It has 80% of B2B leads while 62% of B2B marketers find LinkedIn as an effective tool to market their products or services.
Meanwhile, Content Marketing Institution did a research released in the third quarter of 2015 which showed that 94% of B2B marketers include LinkedIn to their content strategy. The study also showed that 66% of B2B marketers find it as the most effective tool for their business – which is obviously 4% higher than Oktopost's findings at the beginning of 2015.
These figures tell us much about why considering this social media platform can be an asset to your business. Of course, there is no definite strategy to follow. Marketing is not even a scientific method. Most of the time it's a trial and error situation. The point here is taking the chance to improve your business through this platform. You may need to test different strategies, but that's another story to tell.
4. Search engine purposes
No, this is not really about SEO. Here is a screenshot when I Googled my name so you'd understand what is meant by it.Feel free to try it yourself.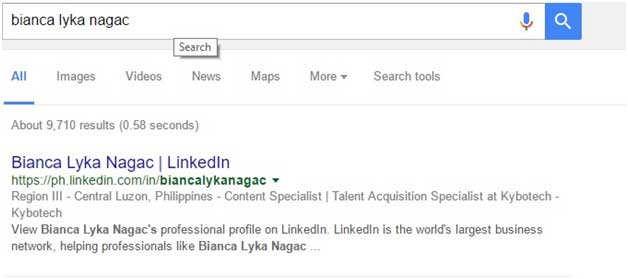 You may have met someone who happens to be an owner of a very popular local business. At the end of your conversation with them, they may be curious to know more about you that they end up Googling your name.
The question is, what if this someone is the one who will take you somewhere you've been dreaming of? Or, this someone offers you an opportunity to become someone you've been dreaming of?
Well, there are many reasons why this happens. One, your URL has something to do with Google's algorithm. Two, if your profile is updated, that is another reason why your LinkedIn profile pops up first. Going back, having your LinkedIn account on the first page of search engine results would help you and the hiring managers make things easy to connect. They won't need to go to other sites or pages just to know more details about you. As mentioned, we have lesser time to see everything because everything happens faster and faster.
5. Hiring managers find it more credible
For those who didn't know it yet, LinkedIn has recommendation and endorsements features. The recommendation is what people has to say about you. Most of the time, they come from the ones you worked with or personally know you. The endorsement is when people from your network declare the skills where they think you're good at.  It may or may not be from people who personally know you. One of the basis, why they endorse you, is through your activity.
You may have written on your resume that you're good in strategic planning, financial analysis, marketing, and so forth. But one thing's for sure. There are doubts – or at least curiosity – that surround their heads. This is why they like viewing LinkedIn profiles. The skills where you're best at are not only mentioned by you but mainly by others. It helps them know if they can entrust you job responsibilities. These features are part of their measures whether to offer you a position or not.
Start now and don't forget to connect!
Now, does LinkedIn matter? Definitely yes, however, it will never be a pre-requisite to get a job or improve your business. Let us consider how powerful social media is today and we have to maximize that. On the other hand, it also makes our lives easier to open new opportunities we don't want to miss.
So, if you haven't setup an account yet, it is never too late to do that.