American comedian Milton Berle once said: "If opportunity doesn't knock, build a door." A website plays a role of this door on which customers will certainly knock as soon as possible. However, what to do if you have no such a door? Having a business but no website? It's a real gap in your business plan and marketing strategy.
Having a website is crucial for a business of any type – both a big corporation and a small startup. According to numerous regular studies in eCommerce, a corporate website significantly improves business effectiveness. The digital era makes entrepreneurs move away from the traditional economic and marketing tools and keep up with the times. So it is nonsense to think that your products or services don't need the online presence.
Nowadays your business success depends directly on your beautiful and SEO optimized website. Moreover, modern software solutions allow creating a ready-to-use website in 2-3 hours. For this, you can use free or premium WordPress templates of any theme for all occasions.
10 Distinct Advantages of Having a Business Website
How will customers reach you if you are not presented online? A website is a necessity for small businesses, entrepreneurs, and those selling something at home. Having a website gives you a number of advantages:
1. Make money while you sleep!
With the online presence, your product or service is constantly accessible. 24/7/365 customers can visit your website, get acquainted with your data, make a purchase, and leave feedback. While you sleep your business is working for your income. So do not limit yourself to the physical location, captivate the whole world with the Internet.
2. Spread your business far and wide
A business website is a bridge that unites your commercial offer with a global audience. It gives you access to about 4 billion users who are surfing the web every day. More and more people prefer buying goods online to shopping at the local stores. So, create a beautiful and user-friendly website for meeting their demands and increasing your profit.
3. Make a name for your company
90 percent of consumers state that positive online feedbacks influence their purchase decisions. Your online presence is a great opportunity to establish yourself as a trustful brand. You will gain instant credibility if you create a website. With a business website, you can share credible blog content with useful tips and helpful video reviews, and achieve feedback to build goodwill of a company. In addition, most modern WordPress business themes are integrated with social media. Having a social media presence adds undeniable legitimacy to your business and drives considerably more traffic to your own website.
4. Stand out from the crowd
What about your competitors? Do they have corporate websites? If they don't, it is high time to create your own platform and win the competitive struggle. Sometimes the secret of success in business is in creativity. Thus try to make an extraordinary website to draw people's attention, but do not forget about the intuitive interface and user-friendly design. A simple but engaging and authentic product will help you earn credibility for your business.
5. Selling becomes easier
Investing in developing and promoting your online presence through eCommerce website can increase your offline store's profits. Even if you are not engaged in selling products or services, having a ready-to-use website allows you selling in future as you have already had a platform for this.
There are a number of multifunctional premium business templates that can be transformed into a profitable eStore without much effort. According to Forrester Research Inc., in the United States online shoppers spent $341.7 billion in 2015 but this year it is predicted $385 billion.
6.Save money
Having a business website is less expensive than ownership of a local store. To build and maintain a simple site is cheaper and easier than you think. In addition, it is a cost-effective way to advertise your business.
7. Keep up with the times
Did you know that 81 percent of shoppers carefully perform online research prior to buying goods in the store? Due to GE Capital Retail Bank study, 60 percent start this research with a search engine before going to a concrete website. It means that websites play an important role in your bottom line. Nowadays it is crucial to have content online that helps to attract potential consumers.
8. Expand your client database
A business website gives you a chance to collect important data and lead generation. It is easier to make people to type email address or other personal contact info than to write it on a piece of paper. Such options as newsletters, contact forms, ebooks, etc. help you reach your potential customers.
9. No printing expenses
Manuals, brochures, booklets, business cards, etc… How much did you spend on print advertising? With a website and social media integration, you can promote your products or service online. For example, distribute your information through email at no cost to you.
10. New marketing tools
The Internet gives a wide variety of opportunities to advertise your business – social media marketing (SMM), YouTube, Pay-per-Click (PPC). You just have to choose the method that will work best for you.
The list of these 10 advantages of having a business website is just a tip of the iceberg. If you scratch beneath the surface, you will certainly find much more benefits. Do not wait for pennies from heaven but start working upon your online presence for a flourishing business.
Why Choose WordPress Platform for Creating a Business Website
No matter what your size, you can build a well-optimized, harmonious and effective website even with a relatively limited budget. But you should understand what to start with. The first step is to choose the most suitable and convenient Content Management System (CMS). One of the most popular and highly recommended by professionals is WordPress. Why should you use WordPress? Even if you hesitate to launch a website because of the routine search for a qualified web designer and developer to build and maintain a website, WordPress framework will make your life easier and keep away from spending thousands of dollars.
Key Benefits of Using WordPress CMS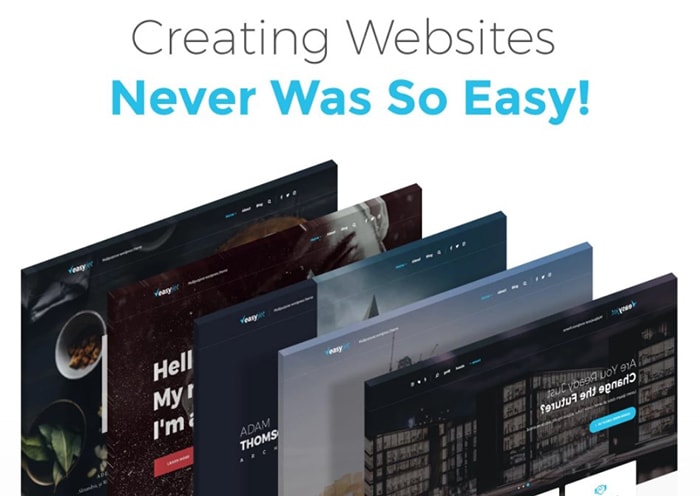 WordPress is an open-source platform. It means that you can use its original source code freely and modify it due to your needs. In addition, thanks to its popularity and dominance on the web, all regular improvements and security updates can be received without paying any fees. Implementation of additional functionality to your website is possible with specific plugins.
WordPress is adaptive and responsive. There are thousands of fully responsive WordPress themes that are easily customizable and completely adaptive to any modern device. You can choose a top-notch theme that is the most appropriate to your needs. If you ready to buy a ready-to-use theme with a comprehensive set of tools and features, you should decide in favor of premium theme. If you are a professional web developer with specific skills and knowledge to customize a theme to the grade of a high-quality website, try a free theme
WordPress is easy as pie. The platform is supported by a vibrant community of millions of users who constantly work on its improvement. There are a number of easy-to-understand documentation and step-by-step tutorials. So if you face bugs or errors, it will be easy to find solutions as soon as possible.
WordPress is a cozy content publishing platform. It allows publishing posts, images, and other content anywhere and everywhere from any modern device. It is hard to lose any type of content since it automatically saves your work. You can easily change the entire design of the site without affecting the content.
WordPress is a fantastic choice for your business website if you are looking for a flexible CMS with a strong community behind you. Learn more about advantages of having a business website reading our free eBook!